Eisenberg Acute Care for Elders (ACE) Service
Welcome to the Eisenberg Service!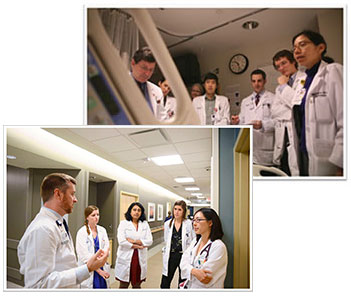 The Eisenberg Service was developed and is staffed by Geriatric Medicine attendings with the specific goal to increase learners' knowledge of core principles in the care of hospitalized older adults. This teaching service was developed as one part of a larger teaching grant, the UT-SAGE (UT-Southwestern Aging and Geriatrics Education) Grant provided by the Donald W. Reynolds Foundation, whose stated goal is "Improving the quality of life of America's growing elderly population through better training of physicians in geriatrics." Care of acutely ill older adults emphasizes principles of patient safety and patient-centered care. These principles benefit patients of any age, but when they are lacking, it is often the older patient population who suffers most. As our population continues to age, it is imperative tha all future clinicians, regardless of specialty, have a better understanding of how to care for the acutely ill older adult.
Seymour Eisenberg, M.D. (September 19, 1918 - January 5, 1999)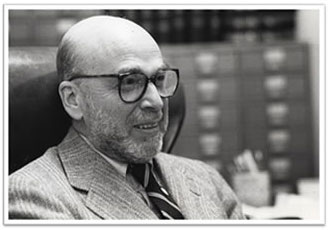 The Eisenberg Service is named in memory of Dr. Seymour Eisenberg. a UT Southwestern faculty member for 48 years and the first Section Chief in Geriatrics. Dr. Eisenberg graduated from Bowman Gray School of Medicine in I944. From there he moved to Boston City Hospital for internship before completing his residency at Parkland Hospital in I950. Though he originally planned to move back to North Carolina and open a private practice, instead, he joined the faculty in 1950 and became "one of the most distinguished teachers in the history of medicine in Dallas" (Dr. Feldman, Vice-Chair Internal Medicine 1999). As the first physician at UTSW to take an interest in the burgeoning field of geriatrics, he recognized the special needs of this population which were unmet - "There will be 32 million Americans over 65 by the year 2000," Eisenberg said, "and the elderly tend to develop multiple chronic illnesses against the background of aging changes. Currently their needs are inadequately met except for acute illness." With the rise to CEO of another geriatrician. Dr. Ron Anderson, the two worked together to improve care for older adults in Dallas County - "The elderly are the most rapidly growing population in Dallas County," said Dr. Anderson, "We need to provide them a continuum of care. Psychosocial and socioeconomic issues have to be dealt with. If not, when an elderly patient is discharged they'll be back. Hospitalization is an easy answer. Sometimes it takes more care to keep people out of the hospital. Hospitalization is dehumanizing." They worked together to establish a core gerontology center that took a geriatric team approach to health to improve outpatient care, prevent hospitalization, and prevent institutionalization after hospitalization, often the poor outcome of inadequate geriatric care. In addition, Dr. Eisenberg established a nursing facility at the Dallas VA and headed the VA geriatrics section for many years.
Eisenberg was well-known for his teaching - "I'm a bedside clinician who listens. That's what I do best. And I train young physicians to do that and enjoy what they do. Listening to the patient is an important part of geriatrics." Dr. Feldman estimated in 1999 that Dr. Eisenberg trained 1000 internal medicine residents and thousands of medical students. His son, a sports writer in Baltimore, described him as a warm and gentle person with a terrific sense of humor and "a strong set of priorities - family first, medicine second, and pro football third." He retired at the age of 80 and died a few months later after being admitted to Zale-Lipshy for a minor operation. His memorial service was packed with former students, a testimonial to his contributions. "There is a blossoming coordinated effort in this school to improve geriatric care" Dr. Eisenberg said in 1983. This service, as well as the rest of The Reynolds UT-SAGE initiative, will continue his vision for the training of physicians in geriatric care at UT Southwestern.
Sources:
Center Times, May 1983
Baltimore Sun, January 24, 1999
Dallas Morning News, January 8, 1999
UT Southwestern News, December 9, 1983